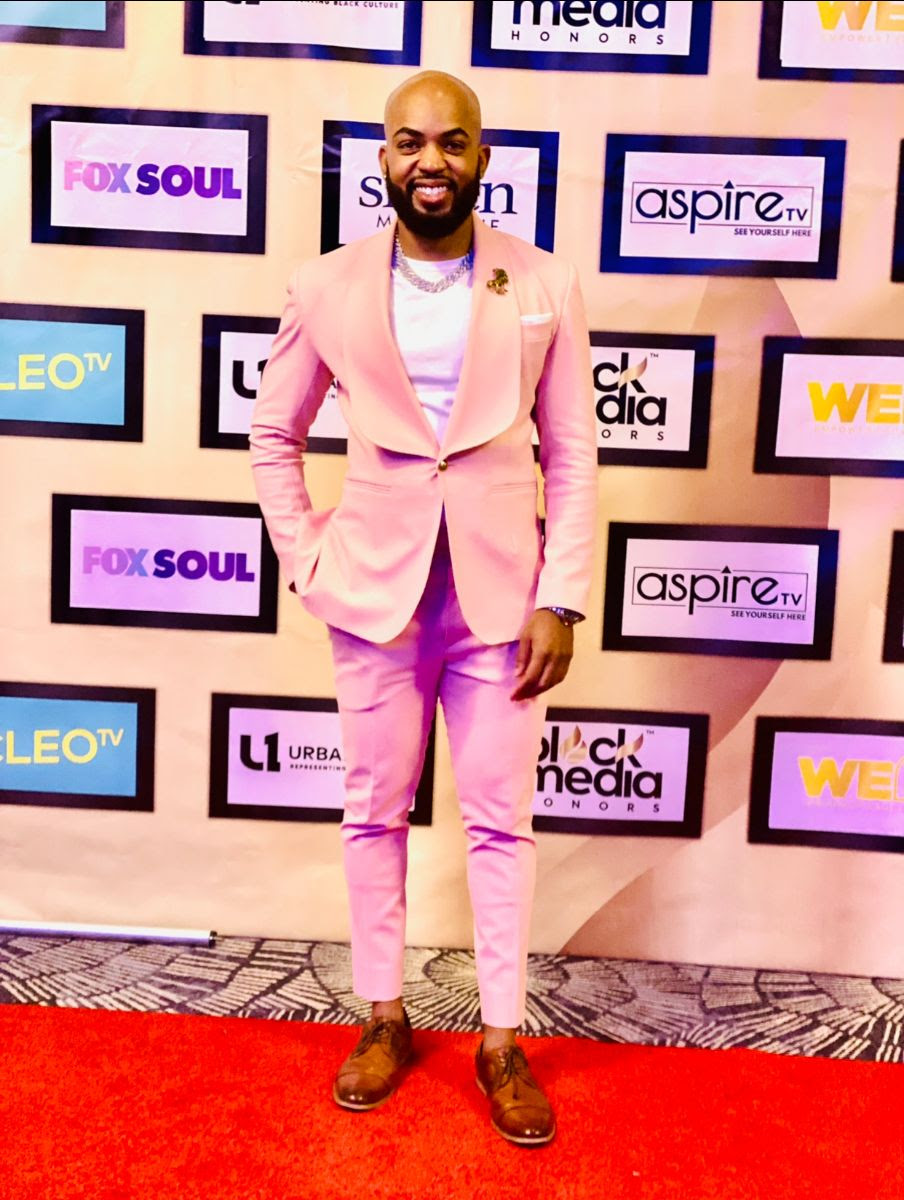 (ATLANTA, GA) August 23, 2021 — On Sunday, entertainment publicist and founder of The David Brand, David Robinson, was named "PR Icon of the Year" at the 20201 Black Media Honors awards gala. During the course of his career, Robinson has worked with and/or represented such notable public figures as The Clark Sisters (3x Grammy Award-winning gospel legendary group), Trina Braxton (WETV's Braxton Family Values/TV One's Sister Circle), Evelyn Braxton (WETV's Braxton Family Values), Terri J. Vaughn (The Steve Harvey Show/ Tyler Perry's Meet the Browns), TC Carson (Living Single), Byron Cage (Grammy-nominated gospel artist), Malik Yoba (NY Undercover/Why Did I Get Married),Sheryl Lee Ralph (Dreamgirls/ Moesha), Wyclef Jean (The Fugees), Drea Kelly (VH1's Hollywood Exes) and more! In 2020, he also worked on the PR campaign for the box office hit, Cruella, and currently working on the highly anticipated film, DUNE.

When asked about this awarding, Robinson responds with, "This is truly an honor. Never could I have imagined that the work that I've done behind the scenes for so many others, would now have an opportunity to be recognized in a room full of my peers and colleagues." He continues, "I am truly grateful for every client, every project, every mentor, and every word of encouragement that I have received on this journey and don't take it for granted."

The gala was hosted by actress, Brely Evansand Pastor Anthony Murray and included honorees, Karen Civil (Live Civil), Pastor Dr. Jamal Bryant (New Birth Missionary Church), Kimberly Chapman (Sheen Magazine Editor-at-Large), Jeff Johnson (BET, Rickey Smiley Morning Show, NAACP), Randy Fling (Rolling Out), Dr. Rashad Richey (Political Analyst for CBS46, MSNBC, PeachtreeTV, V-103, Rolling Out), Michelle Rice (General Manager Urban One & TV One), Morgan Debaun (Blavity), Nadia C. Fischer (Publicist and activist) and The Georgia Entertainment Caucus.

The Black Media Honors, which will be aired on Fox Soul, is a celebration of key contributors to the various aspects of black media. Each year, the awards gala will recognize leaders who have successfully promoted the region through special events, best public relations campaigns; media personalities, journalists, organizations, initiatives, culture focused broadcast networks and programs who pay particular attention to societal issues and values; the local public relations industry; and exceptional college students majoring in public relations, media, mass communication, journalism etc.

The air date of the awards gala has not yet been released.
###
David Robinson celebrating with former client and friend, Drea Kelly (VH1's Hollywood Exes)
David Robinson celebrating with client, Raz B(member of R&B super group B2K)Check out The David Brand online!!!For media inquires: info@thedavidbrand.com
About David Robinson
David Robinson, for the past 15+ years, has been revered as an expert in the communications industry. He has been known to especially soar in the areas of marketing, branding, sales, and public relations both in entertainment and corporate environments.
David attended college at Grand Valley State University where he received his Bachelor's Degree in Advertising & Public Relations in 2010. While in school, he interned in the Public Relations department of Saint Mary's Hospital in Grand Rapids, MI as their event coordinator in their community outreach efforts.
Currently, he resides in metro Atlanta and is the proud owner of his own public relations, branding, and marketing agency The David Brand. Within his agency he has had the privilege of working with many celebrity influencers such as the legendary gospel group The Clark Sisters, actor Malik Yoba, DreamGirl's Sheryl Lee Ralph, Trina Braxtonand Evelyn Braxton of WETv's Braxton Family Values, Terri J. Vaughn of The Steve Harvey Show, TC Carson of Living Single, Fred Jerkins of Dark Child Entertainment, Drea Kelly of VH1's Hollywood Exes, gospel singer Micah Stampley and managing Grammy-nominated and 7x Stellar Award winning gospel artist Byron Cage, and more! In 2021, his agency was also subcontracted to be the PR lead within the AA community for Disney's smash box office hit, Cruella. He has also gained placements on many local, regional, and national media outlets including, Jimmy Kimmel Live!, The Real on FOX, Entertainment Tonight (ET), TMZ, Essence, Ebony, Black Enterprise, BET, RadioOne, Bounce TV, MadameNoire, TheShadeRoom, Sister Circle, Sheen Magazine, RollingOut and more. Also projects that he's worked on has acquired one NAACP Image Award, two Stellar Awards, and a GMA Dove Award. Whether it's corporate marketing or entertainment brand exposure, David has learned how to make his skillsets, his passion. Copyright © 2021 The David Brand, All rights reserved.
Media Relations
Our mailing address is:
The David Brand1700 Northside Dr. NWSuite A7 – 700Atlanta, GA 30388
Add us to your address book